Dr. David Ackerman
Clinic Director / Owner - Active Chiropractic Care / Chiropractor / Certified Personal Trainer / Strength and Conditioning Specialist / Author
BS, DC, CPT, CSCS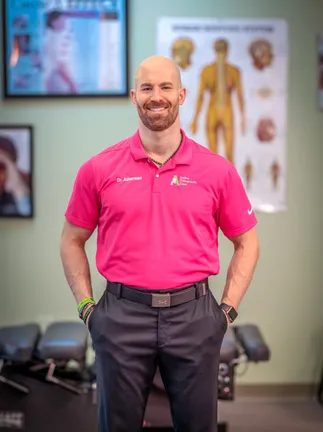 Dr. Ackerman graduated from the University
at Buffalo with a degree in Exercises Science in 2005. His education included extensive intern experience working with numerous sports teams including an assistant strength and conditioning coach.
He went on to further his education at the Palmer College of Chiropractic graduating at the top of his class Suma Cum Laude - Valedictorian in March of 2009.
In addition to this, he was the president of the Motion Palpation club (which is the Chiropractic technique he uses presently) and also was presented the Marie Michael Memorial Award Scholarship for his outstanding academic achievements and contributions to his class.
After graduating Chiropractic School, Dr. Ackerman attained both his personal training and Certified Strength and Conditioning Specialist license from the National Strength and Conditioning Association. These additional certifications allowed him to pursue his passion which is working with individuals and athletes in a one on one setting.
It is his love and passion for the human body, health, nutrition and exercise that drives him to further his education. He is always learning new Chiropractic, exercise and health techniques that will better help his patients and himself achieve higher levels of function!
Dr. Ackerman has created his own method of Chiropractic treatment coined "The Active Method" using his extensive knowledge in exercise, sports training, nutrition, muscle work and Chiropractic care. With the correct application of The Active Method, Dr. Ackerman is able to get results for his patient that they didn't think were possible!
---
Dr. Thomas J. Pollet
Chiropractor / Exercise Physiologist / Bachelors in Nutrition / Certified Personal Trainer / Author
BS, DC, CPT
Doctor Thomas J. Pollet was born and raised in Oceanside, New York and began his formal educational career at Queens College where he graduated Summa Cum Laude with a Bachelor of Science degree in Nutrition and Exercise Science.
It was then that he realized he had a passion for understanding how the human body works and sought to understand how to best improve an individual's performance. He went on to pursue his Doctor of Chiropractic degree at New York Chiropractic College where he graduated with honors in December 2017. During his time at NYCC Doctor Pollet was a member of the Phi Chi Omega Honor Society and was actively involved in the Motion Palpation and Rehab to Performance Clubs where he learned extracurricular gems that would ultimately best serve his patients.
He is competent in applying diversified Chiropractic adjustments, Gonstead Technique, flexion-distraction, ischemic compression, instrument assisted soft tissue massage, taping, electrical muscle stimulation, cold laser therapy, and exercise prescription when necessary and has treated a wide variety of patients from all types of backgrounds.
Doctor Pollet is also a Certified Personal Trainer and enjoys working out at the gym in his free time as a part of his health and Active lifestyle. He looks forward to continuing his educational career by pursuing a Diplomate degree in Clinical Neurology and additional certification as a Strength and Conditioning Specialist.
---
DR. Sean Clancy

Chiropractor / Biologist / Graston Technique / Certified Sports Chiropractor
BS, DC, FICS
Dr. Sean Clancy graduated from
Stony Brook University
in 2010 with a bachelor's degree in biology. In his time there he played on the hockey team which he later coached. During his years of playing hockey growing up he discovered chiropractic care as a way to keep his body ready to compete and recover from various injuries.
After his time at Stony Brook Dr. Clancy attended New York Chiropractic College where he took Graston technique to further his knowledge of treating musculoskeletal conditions. He graduated in 2013 and received additional training as a Sports Chiropractor from the International Federation of Sports Chiropractic (FICS) allowing him to treat all types of sports injuries from recreational sports to athletes competing at the highest level!
Since then he has treated many Mixed Martial Artists / Brazilian Jiu Jitsu competitors, marathon runners, Broadway dancers, gymnasts, weekend warriors and Olympic athletes.
Dr. Clancy loves helping his patients obtain optimal health and wellness through chiropractic care. Allowing them to achieve their goals whether that be competing, being able to play with their kids or even just waking up without pain!
---
Meet The Team
Anthony
Anthony is our Corrective Exercise Specialist helping teach our patients the custom selected stretches and exercises prescribed to them from our Doctors. He enjoys working with patients in a one on one setting in the office and continues to support them with their health and fitness journey outside the office when they are coming for their maintenance adjustments and work towards living the Active D.R.E.A.M.!
---
Janelle
Janelle is our in office Chiropractic Assistant and Therapy Assistant. She loves interacting with patients and educating them about Chiropractic and all the supportive services we offer!
---
Michelle
Michelle is our Office and Front Desk Manager ensuring that all patients receive the highest quality of care during their time with us. Michelle keeps the office running as efficiently as possible, helping patients transition between the steps of their treatment with ease each and every day!

---
Marie

Marie is our Front Desk Check out Assistant. She is here to ensure you have all the appointments necessary to get the best results from your care based on your Doctors treatment recommendations!
She enjoys working with our patients to accommodate their busy lives, ensuring they can keep their health top priority!
---
We Look Forward to Meeting you!
Call us today if you would like to have an evaluation and learn more about the services we provide at our office!